Hot off the presses...two new August releases that will pique your interest!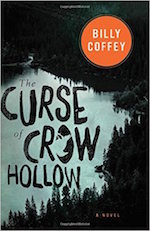 The Curse of Crow Hollow
Billy Coffey
(August 2015)
Genres: Suspense, YA/Teen
Publisher: Thomas Nelson
With the "profound sense of Southern spirituality" he is known for (Publishers Weekly), Billy Coffey draws us into a town where good and evil—and myth and reality—intertwine in unexpected ways.Everyone in Crow Hollow knows of Alvaretta Graves, the old widow who lives in the mountain. Many call her a witch; others whisper she's insane. Everyone agrees the vengeance Alvaretta swore at her husband's death hovers over them all. That vengeance awakens when teenagers stumble upon Alvaretta's cabin, incurring her curse. Now a sickness moves through the Hollow. Rumors swirl that Stu Graves has risen for revenge. And the people of Crow Hollow are left to confront not only the darkness that lives on the mountain, but the darkness that lives within themselves.
"Coffey spins a wicked tale . . . [The Curse of Crow Hollow] blends folklore, superstition, and subconscious dread in the vein of Shirley Jackson's 'The Lottery.'" —Kirkus Reviews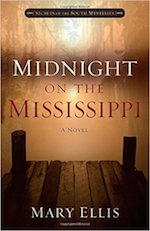 Midnight on the Mississippi
Mary Ellis
(August 2015)
Genres: Romance, Suspense
Publisher: Harvest House
Midnight on the Mississippi begins the new Secrets of the South Mysteries from bestselling author Mary Ellis. These complex crime dramas follow an investigator's quest to make the world a better place...solving one case at a time.New Orleans--Hunter Galen, a stock and securities broker, suspects his business partner, James Nowak, may be involved in embezzling their clients' money, but he's reluctant to jeopardize their friendship based on suspicion alone. After James turns up dead, Hunter realizes his unwillingness to confront a problem may have cost James his life.
Nicki Price, a newly minted PI, intends to solve the stockbroker's murder, recover the missing millions from the client accounts, and establish herself in the career she adores. As she ferrets out fraud and deception at Galen Investments, Hunter's fiancee, Ashley Menard, rubs Nicki the wrong way. Nicki doesn't trust the ostentatious woman with an agenda longer than the Mississippi River. Ashley seems to be hiding something, but is Nicki's growing attraction to Hunter--a suspected murderer--her true reason for disliking Ashley?
As they encounter sophisticated shell games, blackmail, and murder, Nicki and Hunter's only option is to turn to God as they search for answers, elude lethal danger, and perhaps discover love along the way.